Located in Edmonton, next to the University of Alberta, the Northern Alberta Jubilee Auditorium can be found at:
11455 — 87 Avenue NW
Edmonton, AB
Canada
T6G 2T2
Parking and Transportation
Visitors can access the Jubilee Auditorium Car Park from 87 Avenue – access is not available from 114 Street. Surface parking is available on the south side of the auditorium and can be accessed from the west side of the building.
Barrier free surface parking is located on the ground floor of the Car Park.
Avoid the line ups at the kiosk and use the express payment lane!
Pay by mobile app:  Download the app, HONK Mobile to set up your account and you are ready to pay for parking from the comfort of your car or even from inside the venue.
Pay by dispenser: Locate a dispenser in the structure, enter your plate number, pay and go.
No need to go back to your car! All you have to remember is your license plate number.
Dispensers accept credit card and coin; Honk accepts credit card, Paypal and U of A Onecard.
Neither method is a reservation system. Both methods require that you park first and then pay. Paying first does not guarantee you a parking space.
Performance Parking Rates
A special rate is in effect for scheduled performances at $6.00 / performance. Performance rate starts at 6:00 PM.
Regular Parking Rates
The rates for times other than scheduled performance rates, please visit University of Alberta Parking Services.
Parking Lot Locations
The Jubilee Carpark is located east of the Northern Alberta Jubilee Auditorium. For additional parking, please visit University of Alberta Lot Locations Map.
To ensure that our patrons have an enjoyable evening, we recommend that you allow extra time to park and get to your seats before the performance is scheduled to begin.
Edmonton Transit offers an easy and convenient way to travel to your favourite events. Catch the Clareview Train (if traveling north) or the Century Park Train (if traveling south). The LRT stop is located on 114th Street at the "Health Sciences/Jubilee Station."
Getting Here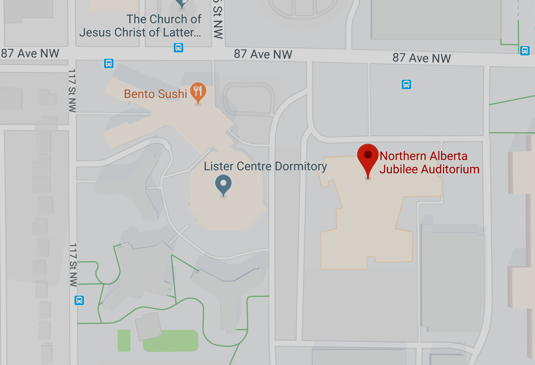 Northern Alberta Jubilee Auditorium
11455 87 Avenue NW
Edmonton, AB
Canada
T6G 2T2

Phone: (780) 427-2760
Directions »