Venue Location
The Southern Alberta Jubilee Auditorium is located next to the Southern Alberta Institute of Technology (SAIT) and the Alberta University of the Arts (AU Arts formerly ACAD).
1415 14 Ave NW
Calgary, AB T2N 1M4

Ph: (403) 297-8000
Fax: (403) 297-3818
Parking
The Southern Alberta Jubilee Auditorium has two parking lots within walking distance of the building. The North Surface Lot and the Parkade adjacent to the AUArts building.  It is advised that you arrive 45 minutes prior to curtain time, as latecomers will be seated at designated times only.
The parking is managed by the Calgary Parking Authority, ParkPlus system.
The Jubilee is zone 8370. 
You can pay to park in the lot or parkade using CPA's MyParking app, Virtual Pay Machine, Call To Park, Text To Park, or using a ParkPlus pay machine. You can pay for parking before or after your event; just ensure that you pay prior to leaving. To avoid being ticketed, your licence plate must be visible. There is no need to display payment.  
The MyParking App is available on the Google Play Store or Apple App Store for free.
All parking is based on availability. There is no reservation system. Paying in advance does not guarantee you a parking space.
Accessible Parking
It is recommended that patrons with accessibility needs use the parking stalls in the surface lot or adjacent to the North Entrance Doors. While there are parking stalls for patrons with accessibility needs in the Jubilee Auditorium Parkade, these stalls provide access to AUArts only. Patrons should note that the indoor route from the Parkade to the auditorium contains stairs which may be a barrier.
Handi-Bus parking is available on the northwest side of the building or wheelchair patrons may be dropped off at the main doors.
Performance Parking Rates
Southern Alberta Jubilee Auditorium special rate is in effect for scheduled performances, evenings and weekends at $7.00 per performance.
Regular Parking Rates
Southern Alberta Jubilee Auditorium rates for times other than scheduled performances are $11.00 per day.
*For a limited time, the special performance rate of $7 will be in effect for all times.
Public Transit
Calgary Transit offers an easy and convenient way to travel to your favourite events. Catch the Tuscany C-Train (if traveling north) or the Somerset/Bridlewood C-Train (if traveling south). The C-Train stop is located immediately behind the building at the "SAIT/AUArts/Jubilee Station."
Getting Here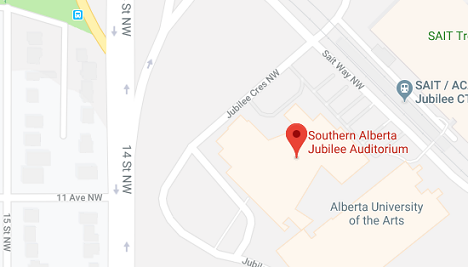 Southern Alberta Jubilee Auditorium
1415 – 14th Avenue NW
Calgary, AB
Canada
T2N 1M4

Phone: (403) 297-8000
Directions »